04 May

Can a Wholesale Casket Outlet Really Give Me The Quality That I'm Looking For?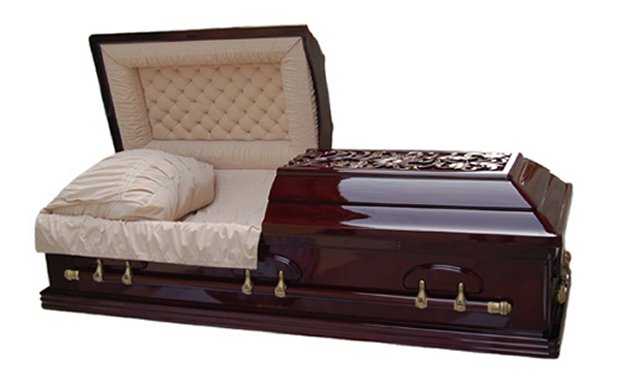 For most people purchasing from a casket outlet, the number one concern is quality.  Once quality of the casket is assured, the secondary deciding factor comes down to evaluating things like, style, design, and price.  It is important to select a well made and finely crafted casket that you feel is representative of the deceased.  Clearly, your loved one deserves the best, and your happiness is very important as well.
Most people begin their search for caskets by talking to a representative at the funeral home.  What they quickly learn is that most caskets offered by funeral homes are anywhere between $3000 and $6000 dollars.  When you add up all the other associated costs like burial plots, ceremonies, and memorial services, one thing becomes very clear.  Funerals can be expensive.
At this time, many people begin looking for ways to cut back on costs.  This is where casket outlets like Haven Casket come into play.  We offer the ability to reduce the costs associated with your funeral without compromising on the quality your loved one deserves.
The reality is that most people come to Haven Casket looking to save money. When browsing our selection, many customers are shocked when they see we offer our caskets and urns at discounts of up to 75% off of funeral home prices.  The first question that obviously comes to mind is how can we offer these products so inexpensively?  Many automatically assume that there must be a problem with the quality, but in fact, this is as far from the truth as you can get.
As a casket outlet, Haven Caskets offers all of our caskets at wholesale prices, saving you a lot of money.  These are the same caskets that are being offered by the funeral homes, but by cutting them out as the middleman, you are getting the caskets at more or less factory cost.
Because a large amount of our sales are processed through the online marketplace, we don't have to add a huge markup to our caskets to remain in business.  We have agreements with a number of the top producers of caskets and urns in Canada, which allows us to offer factory direct shipping and prices to match for your convenience and savings.  We even offer same day shipping across Canada for all of our products.
Our wide range of name brand caskets include some of the best quality and most durable caskets on the market.  You can be sure that if we offer it in our selection, it's because we believe in the craftsmanship of these products.  We never work with a company before first assuring their products are up to our high standards.
To give you further confidence in your purchase, Haven Caskets offers a 100% satisfaction guarantee to all of our customers.  If for any reason our products do not meet your expectations, we will give you a full refund or exchange.  Check out our online selection today and learn what many of our customers have already realized—quality doesn't always mean spending a fortune.