Renting a casket is a good option for those who would like to have a traditional casket for a viewing, but are looking to save money.  Funerals can be expensive and costs can quickly add up.  If you don't want the expense of outright purchasing a casket, then rental is a good choice for giving your loved one a dignified visitation and ceremony.
How does a rental casket work?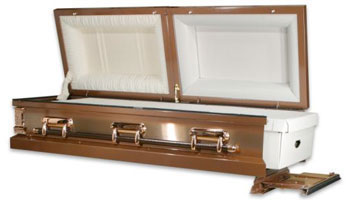 We have a wide range of ceremony caskets available that have a removable interior.  The body is placed in a basic wooden box, which can be fitted into the casket.  This will give the appearance that the body is inside the casket, although technically the body and the casket will never actually touch.
After the ceremony and viewing, the wooden box will be removed from the casket.  The body can then either be buried in the box, or cremated.
Benefits of renting a casket
Even though Haven Casket has a large selection of discount caskets, we understand that sometimes money can be tight.  Renting a casket can save you from the expense of actually purchasing a casket, but still allow you to have a traditional viewing.  Viewings are a very important part of the funeral process as they give friends and family a chance to say goodbye to the love one before they are cremated or buried.
Rental caskets are most often used for those who are having a cremation service done.  For appearances sake, it looks and operates just like a regular casket except it possesses a removable liner.  Renting a casket verses purchasing one when you are planning a cremation service is becoming a more and more popular choice.
Many of our clients choose this option for its environmental benefits as well.  As the rental casket is able to be reused several times, this is an economical way of helping to preserve our forests and natural resources.
Why choose Haven Casket for your ceremony casket?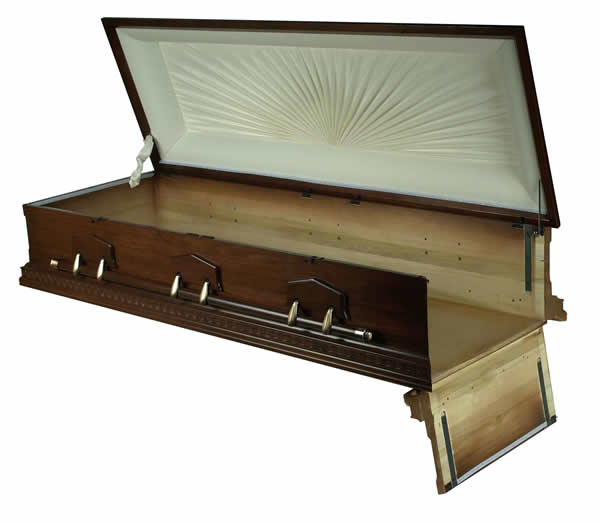 When renting a casket from Haven Casket, you can be assured quality and customer satisfaction are our number one concerns.  Special care is always taken to restore all of our caskets for rent to their original condition.  That means that all of our rental caskets look like they are brand new.   When wear and tear becomes such that the rental casket cannot be restored, it is discarded. You will never have to worry about a loved one being placed in a casket that appears to be anything other than brand new.
If you check out our range of online caskets and find one you desire but cannot afford it or simply would prefer to save the money, just let us know. Most of our caskets are available as rental caskets and can be rented for your ceremony at a fraction of the purchase cost.  We intentionally price our selections low, and pride ourselves in offering a wide variety of affordable caskets, but for various reasons, not everyone wants to purchase a casket.  This is why we have the rental option.