04 May

What's The Difference Between Purchasing From a Funeral Home Versus a Wholesale or Online Casket Depot?

Whenever the unfortunate happens and you are in need of a casket, often the first place to turn to is your local funeral home.  However, what many people don't realize is that this is the last place that you want to be making your purchases from.  Most funeral homes do have a standing display of caskets for sale, but you'll soon learn there are much better options out there for you and your family to consider. Wholesale or online casket depots can offer you a much better choice.
How funeral homes make their money?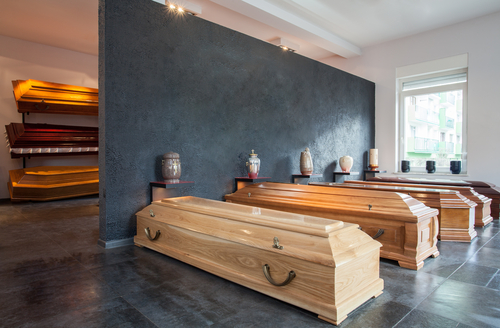 Funeral homes are in the business of helping people get through the aftermath immediately following the death of a loved one.  Death is a difficult reality for most people and although funeral homes are a necessity in these situations, people often forget that there are other motivations involved.  Most funeral directors do honestly care about their clients.  We understand the valuable service they provide so we don't want to undermine that, but in the end, a funeral home is still a business which must make a profit if they want to remain operating.
The average funeral costs upwards of $6000 dollars for the family of the deceased.  Normally a good percentage of this money is going towards the cost of a casket.  Funeral homes know that people are willing to pay good money for a quality casket.  What they don't tell you is that they're selling them at a considerable markup in order to make a profit.
Why choose an online casket depot like Haven Casket?
When people browse through our collection of online caskets they are surprised to see the same caskets offered in funeral homes, except ours are just a fraction of the price.  The prices you see on our website are wholesale prices—the same prices that funeral homes are paying for their caskets.
Funeral homes often mark up prices on caskets as much as 75%, which is why ours appear so much cheaper.  We don't blame them.  Due to the high expenses of running a funeral home, they need to do this to stay in business.  Because we are simply a casket supplier, our overhead costs are significantly lower, thus our ability to offer caskets at incredibly discounted rates.
When it comes down to it, choosing a casket depot is always the right choice.  Funerals can be costly, and there is no need to burden your family with unnecessary expenses.  Take the money you save and use it to honor your loved one in other ways.
I need my casket ASAP, will it arrive in time for the viewing?
Haven Casket understands when planning a funeral, time is of the essence and you don't have a lot of it to waste.  This is why we offer same day shipping to anywhere in Canada for all of our products.  Often funeral homes are working with the same companies as us, and many times ordering through a casket depot like Haven Casket is actually quicker than ordering through a funeral home.  Rest assured, we understand the serious nature of your affairs, which is why we always guarantee your casket will arrive on time.
With this guarantee in mind, check out our online wholesale caskets today, and see how ordering through Haven Casket can save you money.
All

Cherry

Infant Casket

Mahogany

Oak

Pine

Poplar

Solid Wood

Veneer

Walnut